So I know Im a little late on this post … but recently subscribed to Ipsy,and I received my first Glam Bag!!! (Yayyy!) I heard so many great things about them that I was so anxious to receive mine.
I have to say I was very impressed with the content! I actually received almost 40$ worth products and I only paid 10$!! (Amazing huh?!)
These are the products that I received:
Full size bottle of a Nailtini nail polish "Frappe" color.
Pacifica "Tuscan Blood Orange" body butter 2.5 fl.oz
Big Sexy Hair hair spray 50ml.
Josie Maran 100% pure Argan Oil. 17 fl.oz
Soho Ergonomic Design Eyeliner Brush
Nailtini nail polish"Frappe": its a like a very light tone, ( which I already used as you can tell) not really my type of nail polish but its very cute if your feeling like wearing a nude color . When I tried it, I had to apply 3 coats of it so that it would really look like im wearing nail polish.
Pacifica Body Butter : Sparkling, juicy blood orange with notes of red raspberry and spicy sweet italian mandarins. The scent of the Mediterranean beach. (As per the bottle's description).
In my opinion this smells de-li-cious! I absolutely love it!, and the thing that I really like the most is the fact that after you put the cream on it doesn't leave you feeling that "sticky sensation". You dont have to wait long until your skin absorbes the cream, which for me is perfect.
Big Sexy Hair is a volumizing spray which holds and adds volume to your hair.
Josie Maran Argan Oil : This is actually pretty amazing you can use it as a:
Daily Moisturizer: apply on clean face.
Hair Treatment: apply to split ends.
Body Moisturizer: apply to skin.
Nail Treatment: apply to cuticles.
Bath Oil: add to your bath.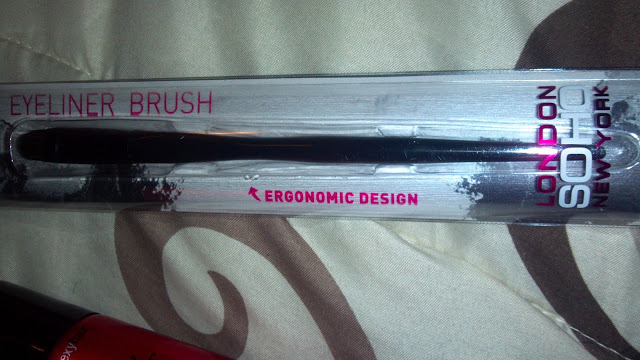 Soho ergonomic eyeliner brush : Its an ergonomic brush that has a flat tip that which makes easier to apply eyeliner.
Every month the My Glam bag is different,January's 2013 bag is black on the outside and this is how it looks on the inside.
I really liked my bag this month and cant wait to receive the next one!
xoxo