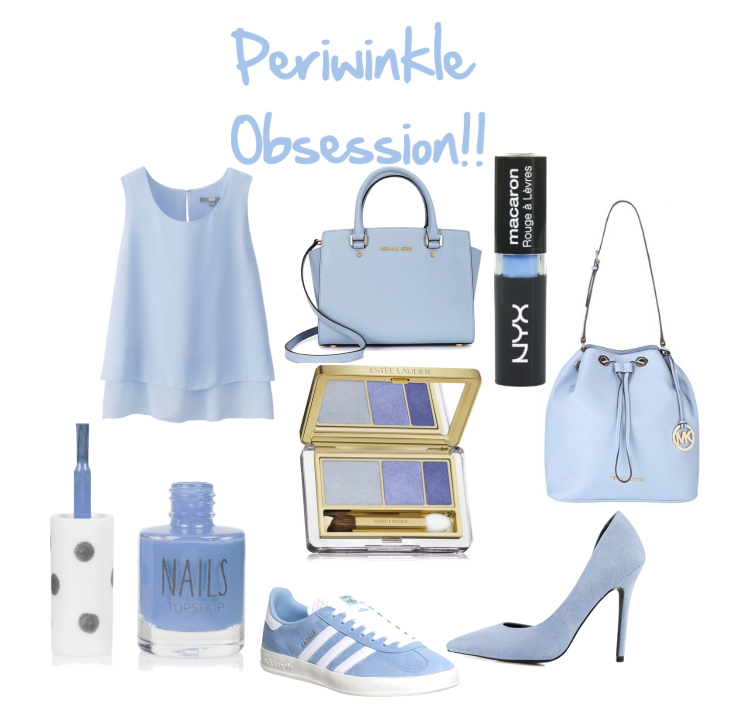 Hellow helloow!! so as you guys might have already noticed I have seasonal obsessions with colors… yeah , I know.. cray cray… ( do we still use "cray cray"? idk i feel old… )
and now since spring has sprung a new color obsession has kicked in and as you can see its Periwinkle blue…
Now, this is the lighter version of periwinkle, more like a powder blue tone. But whatever color or tone this is, I find it to be just perfect for this season, its a light, fresh color, and I looooove it!
So, what do you guys think? do you have any favorite colors for this season??? Tell me, I wanna know!! 🙂
Holaa Holaa!! como ya se posiblemente se han dado cuenta , tengo obsesiones temporales con colores.. si, lo se… un poco loco…
Y como ya la primavera ha florecido me ha entrado una nueva obsesión de color y como se podrán dar cuenta es el azul "periwinkle" ( no se cual es el nombre en español, si algunos de ustedes saben déjenme saber porfa).
Ahora, esta es la version mas clara del Periwinkle, es mas como un tono azul bebe. pero sin importar cual sea el color o tono encuentro que es perfecto para esta temporada, es un color claro, fresco y me encantaa!
Que creen ustedes? Tienen alguna color(es) favorito(s) para esta temporada?? Diganme, quiero saber!! 🙂
Don't forget to click on "join this site " for more updates!! / No olvides hacer click en "unirse a este sitio" para mas actualizaciones!
Find me on/Encuentrame en: